One of The largest industrial deMOLITION projectS in New Zealand AND comprising over 30 hectares of heavY PLANT AND on five sites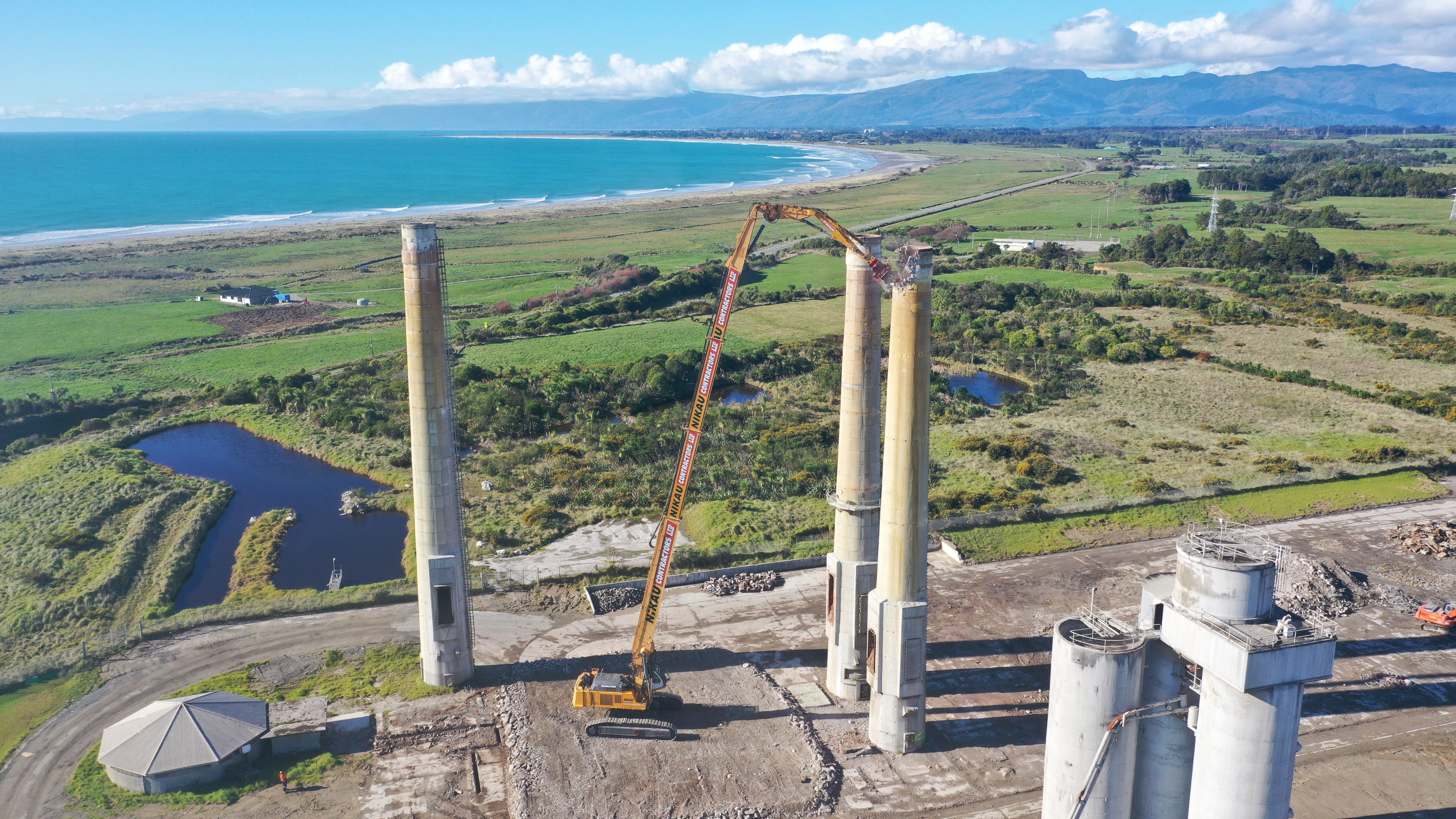 ---
Holcim Cement Works Westport is the one of the largest demolition and clearance project undertaken in New Zealand, this far requiring range of heavy machinery from 20 tonne to 220 tonne capacity.
The original timeframe for this work envisaged by Holcim was 18 months however Nikau is on track to achieve this in 15 months and includes additional civil works requested by Holcim.
The location spanned over several sites in Cape Foulwind and Westport being total area in excess of approximately 200 hectares.
33,000m2 as asbestos exterior cladding with added historic clinker cement adherence with an average layer cover of 100mm density.
Demolition of heavy mills, 3 concrete chimneys at 50m in height, 9 concrete silos ranging in height to 40m with 3 on a seaside wharf area in direct border of the township.
Maintaining strict environmental controls with open and close communication between Holcim and Nikau management throughout.
Holcim regard this project Health and Safety statistics at record low nationally and internationally.
Opportunity to train (temporary) local employees in the field of demolition and machinery operations to enhance their own future employment opportunities.
The main plant, aptly located at "Cape Foulwind" comprised of cement holding tanks, silos, bag houses, laboratories and other structures that were in poor structural condition.
The majority of structures were clad in asbestos cladding, the majority of which was in a severely deteriorated state.
Contaminated soils, poor weather conditions and the isolated location, all posed unique challenges to the Nikau team over the projects 15 month duration.
Contractor responsibilities:
Class A (lagging/millboard) and Class B Asbestos Removal (cladding) utilising crane man-cage and (Work Safe NZ approved) controlled collapsing methodologies

Creating 3 consented internment cells for the safe disposal of asbestos containing materials and approved capping process.

Demolition by Ultra high reach

Demolition using heavy machinery

Recycling of more than 12,000t to date of ferrous metals

Recycling of more than 500t of non-ferrous metals to date

Located over multiple sites throughout Westport

Recycling of over 50,000m3 of concrete for backfilling of voids.

Environmental removal of dry cement residue from silos 400 tonne

Site clearance and remediation of multiple sites.
Please see the link for our video of this project https://vimeo.com/439650969