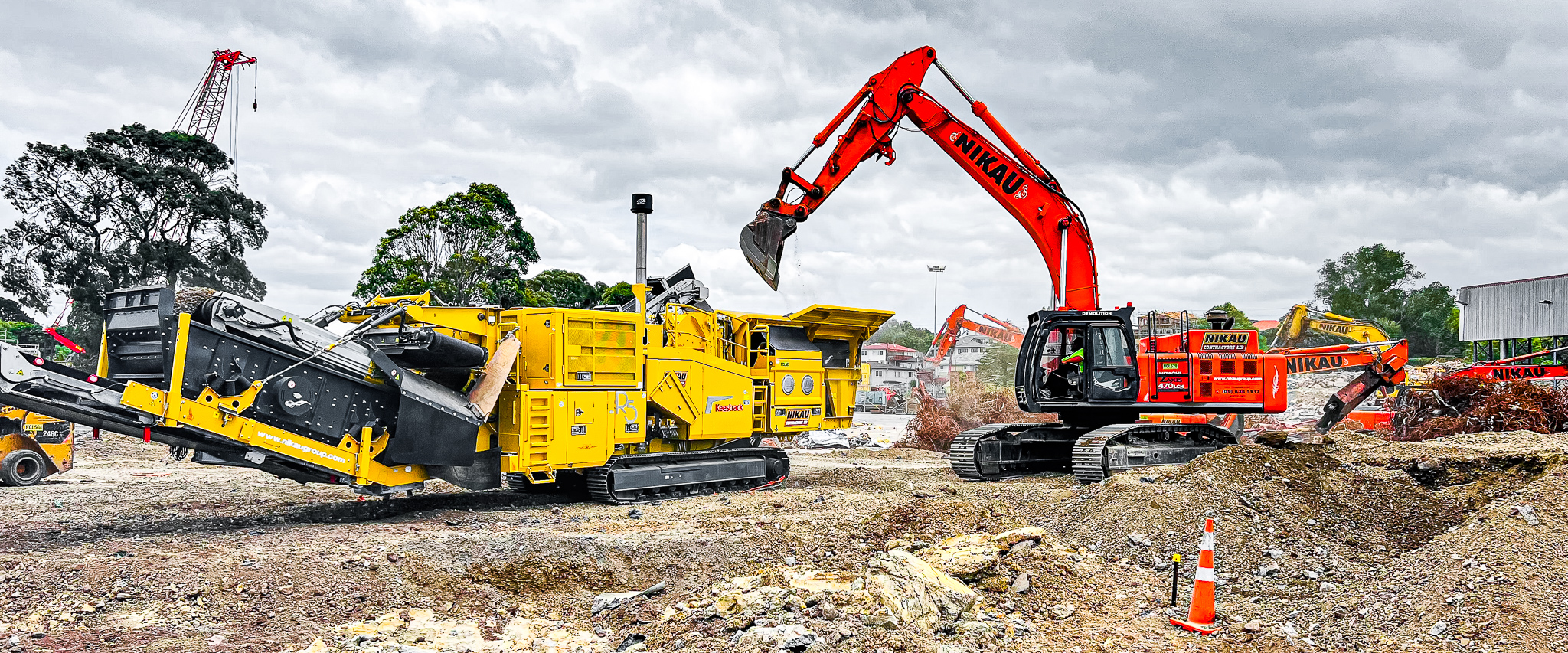 ---
THE NATURE OF THE INDUSTRY FOR WHICH WE WORK IS INHEReNTLY DIFFICULT AND COMES WITH SIGNIFICANT RISK - RISKS THAT MUST BE EFFECTIVELY IDENTIFIED AND CONTROLLED.

From the Boardroom to the Coalface, it is common place to see Nikau's two senior Directors; John and Diana Stil; actively involved in the company's projects through out it's life cycle. With their combined 70 years plus within the industry, they also provide a wealth of knowledge and experience in the safe execution of deconstruction, retrieval and remediation projects.
Nikau is the first demolition company in New Zealand to get serious about OHS/E and has since the early 1990's implemented a comprehensive and fully functioning OHS/E system that has full committment from management. These systems have evolved over years closely interlaced with the company's commitment to continued improvement constantly looking at International examples for best practice and practicable solutions.
Nikau's accredited systems includes ISO 9001:2015 Quality Management System, ISO 45001:2018 Occupational Health & Safety Management System and our ISO 14001:2015 Environmental Management System, IMPAC Prequalification, ISNET Prequalification, Site Wise Gold Accreditation.
The company employs it's own nationally recognised Health and Safety Manager, who, along with Senior Director and former New Zealand Demolition and Asbestos Association President, Diana Stil; both have vast experience not only within the deconstruction and remediation industry, but also on a regulatory and legislative stage.
Because of the evolving nature of deconstruction, OHS/E takes a significant portion of site management time and effort and accountability for all personnel is crucial with OHS/E performance incentives.
For continued improvement, regular internal and external monitoring and assessment of systems and practice is undertaken to ensure that OHS/E systems are implemented effectively and remain live through out all facets of the company's activities. Effective incident management ensures that accidents and incidents, including near misses, are reviewed and analysed to identify trends and assess remedial actions are effective to prevent recurrance.