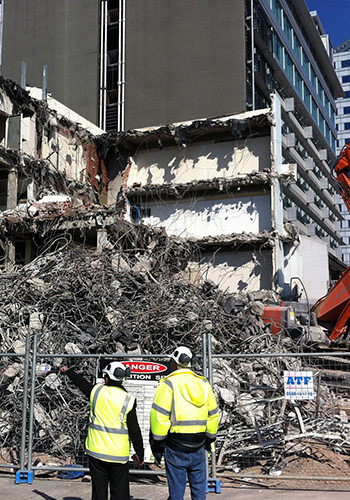 From specialist equipment ranging from 900kgs to 220t, we have one of the largest fleets of specialist demolition plant and equipment in New Zealand, servicing our nationwide operations. We have a strict maintenance policy, our equipment is regularly maintained and kept in good working order, this ensures the highest levels of safety and efficiency. The wide range of equipment allows us to provide a multifaceted approach tailored to provide the highest quality service and work practices for our clients.
Our specialist equipment includes:



   High Reach Demolition Machines


   Specialist Demolition Excavators with Muliple Demolition Attachments


   Skidsteer Loaders
Collaborative working with plant, machinery and attachment manufacturers has also enabled us to develop unique capabilities, particularly in the:



   Reduction of employee exposure to whole body vibration. 


   Production of high quality, cost effective, recycled aggregates.
Presenting well maintained clean plant, in what are hostile environments, is an essential part of the professional services that we provide. Our ongoing investment in a modern fleet of equipment, exploits technological advances that significantly improve safety, reduce environmental impact whilst improving efficiency. We are investing heavily in modern, safe fuel efficient plant and equipment that is friendly to the environment.